[Gyeonggi Knit Fashoion Show 2018] The infinite transformation of the knitwear... RUNWAY in wonderful designs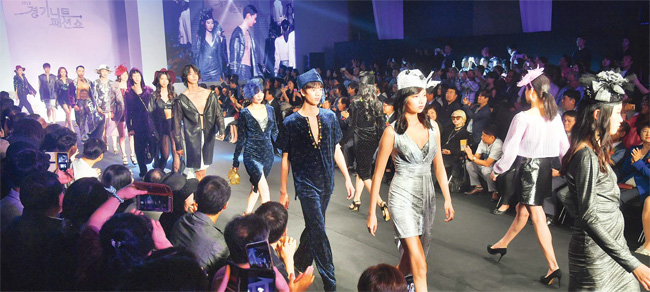 The fashion show featured Kim Seong-heung, the head of the Gyeonggi Provincial Council for Economic Science and Technology Cho Kwang-joo, the chairperson of the committee, and the CEO of Gyeonggi Ilbo, Park Yoon-kook, Park Hang-chul.

In addition, 25 companies including Daea International, Gyeonggi Textile Corporation, Seo Jin-Nite, Sungshin Textile, and Pax Sports participated to mark the excellence of textiles in Gyeonggi Province.

"Gyeonggi is the center of the textile business, where more than half of the nation`s knit companies are concentrated," said Vice-President Kim Ki-choon of Gyeonggi Province.
---
이번 패션쇼에는 김진흥 경기도 행정2부지사, 조광주 경기도의회 경제과학기술위원회 위원장을 비롯한 위원회 소속 도의원, 박윤국 포천시장, 신항철 경기일보 대표이사 사장, 정명효 경기섬유산업연합회장 등 내빈과 그레이스 문, 장광효, 명유석, 곽현주, 홍은주 등 해외 초청 및 유명 디자이너가 참석했다.

또 경기도 섬유업체인 대아인터내셔날, 서진니트, 성신섬유, 팍스스포츠 등 25개 업체가 참여해 경기 지역 섬유의 우수성을 알렸다.

김진흥 부지사는 "경기도는 전국 니트 업체의 절반 이상이 집중 돼 있는 섬유사업의 중심"이라며 "앞으로 경기도 섬유산업의 우수성을 알리기 위해 더욱 노력하겠다"고 말했다.
---
Source | Kyeonggi (http://www.kyeonggi.com/?mod=news&act=articleView&idxno=1515276)
출처 | 경기일보 (http://www.kyeonggi.com/?mod=news&act=articleView&idxno=1515276)